$1,230.00
Teachers of secondary school pupils sometimes have difficulties finding good methods for sparking interest in subjects. Because we're living in a digital age, this Alpha Mini humanoid educational robot is the perfect solution to this problem. He can help you teach many subjects in an original way while also giving pupils a chance to try their hand at programming.
Compare
Report Abuse
Frequently Bought Together
Alpha Mini: a versatile robot assistant
The Alpha Mini educational robot is by no means a mere toy, as he can use AI (artificial intelligence) to communicate, move and recognise faces and objects. He will prove an invaluable assistant during your various teaching activities. He can give personalised lessons for individual students or to small groups of pupils. Because he's programmable, you can use him to organise a variety of writing, reading, history and mathematics activities. In addition, pupils can help program the robot to also discover more about mechanics and computer science.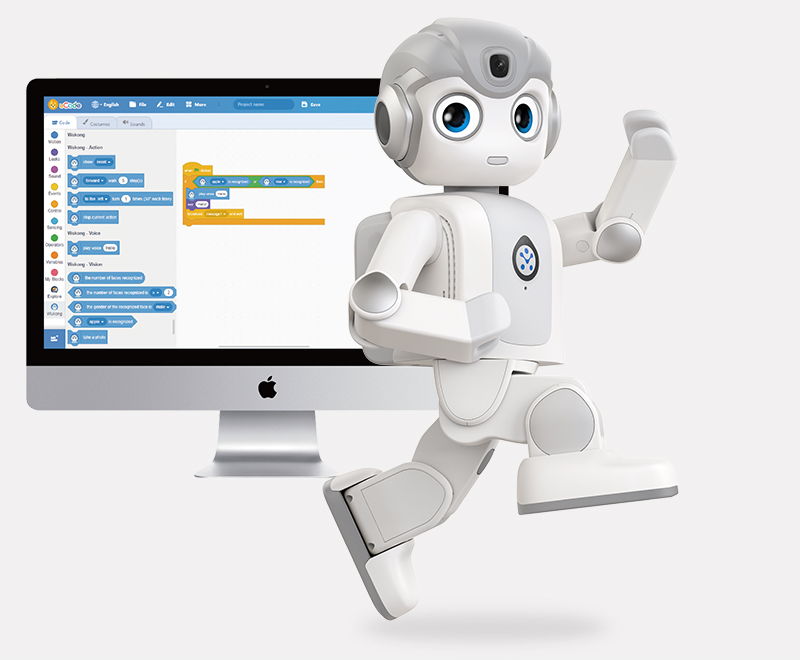 An educational robot capable of natural and intuitive interaction
The Alpha Mini humanoid educational robot was designed to interact both naturally and intuitively. For example, he has a facial recognition system that allows him to smoothly follow the person he's currently interacting with. Thanks to his human-like behaviour and facial expressions (he can even sneeze!), children will easily and quickly bond with him. Much more than just a robot, Alpha Mini will rapidly become a faithful learning companion for your pupils.
Alpha Mini programming and customisation
The Alpha Mini humanoid educational robot is fully programmable. This means you can customise his actions depending on the lessons and exercises you want to present to your pupils. For this, he is equipped with ROSA, an open platform integrating the Android SDK. With ROSA, you can easily add the applications and documents of your choice, enabling Alpha Mini to then assist you during your classes. Being able to add different educational materials in this way will allow you to tackle different subjects. Pupils have access to a variety of learning resources, and can even discover how to program Alpha Mini to get a better understanding of robotics. He is programmed using a Scratch-type block interface, can detect obstacles with his infrared sensor, and recognises 75 voice commands in English.
Technical specifications
HD Camera
16 degrees of freedom
Dual IPS LCD screen
14 servo motors
3 sensors
Gyroscope
4 microphones
Stereo sound
Windows PC / iOS and Android tablet programmable
Communication kit
Alpha Mini humanoid robot resources
No videos added!
No awards added!
Share your thoughts!
Let us know what you think...
Only logged in customers who have purchased this product may leave a review. Log in now